---
---
This is a mind-blowing flying spinner toy with an ingenious hidden drive mechanism that can perform incredible acrobatic tricks and stunts. It's simple to master in just a few minutes and a total blast to play alone or with friends. It can fly anywhere, and is the absolute cure for boredom!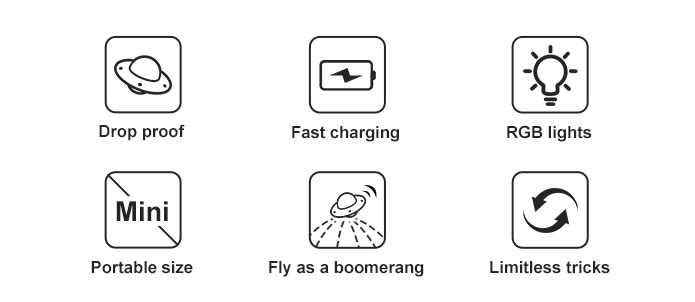 It's easy to get started. It looks like magic but all you need to do is to spin it up and give it a toss! A miniature internal motor gives it the power to perform wild tricks. Different throwing speeds and angles allow different flight paths, tricks, and high-speed maneuvers. 
With just a few throws, you will quickly begin to understand the infinite possibilities for flight….
Turn on the power button, hold the center axis and spin the wheel to start. 
Give it a toss to get flying, and after a few practice throws you will be doing cool tricks in no time!
If you wish to stop playing, just grab the toy and stop the spinning. It's easy and safe. The enclosed wheel design protects your hands while spinning. 
Throw the toy upwards and it spins around its axis perpendicular to the direction of flight and returns to you in a safe, predictable manner like a boomerang. You can throw it and catch it yourself. This unique feature makes it perfect for solo play.
Throw the toy downwards and it will travel steadily in a straight line. The distance traveled is determined by how hard you throw it. Go the distance! Perfect for a back & forth game of catch or team tricks with friends.
It is simple for anyone to fly but with a little practice, it can perform incredible maneuvers and infinite tricks. Its ability is only limited by your imagination. Get creative and show us what you've got! Or try some of our favorites…
It is even more fun with friends. Team up, create games, and enjoy friendly competition. It's the perfect way to relax, have fun, or encourage teamwork at the office. Take a break, spark your creativity, and be refreshed.  
You don't need a big area or a lot of space to take off. It is fun and easy to control anywhere. It is designed to work indoors as well as outdoors with a smooth flight pattern and boomerang effect. It's the perfect backyard activity but can easily be used indoors as well. Use it at home, school, or the office. 
It's fun to fly and also a great way to relax and take release some stress. When those long days get you down or you think that one more office meeting will drive you crazy, take it for a spin and get your Zen on!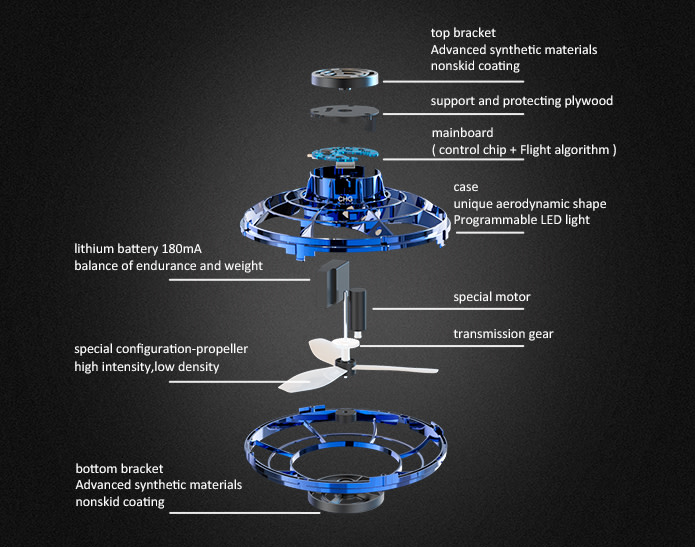 We designed the toy to be fun and safe, especially for kids. The enclosed wheel design is aerodynamic and protects your hands while spinning it up and performing tricks. Catching it mid-air or on the go is easy and 100% safe.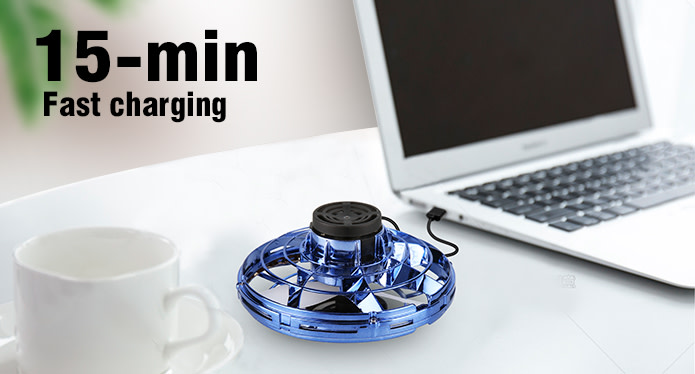 Get airborne fast. Its secret power comes from the onboard gyroscopic motor that allows it to perform maneuvers like magic. Power it up by Micro USB cable for 15 minutes to get fully charged, and a single charge will give you a full 10 minutes of tricked out flight time. 
---