---
---
"Fire Blanket"

 

for protecting you from the fire!
A MUST-HAVE FIRE EMERGENCY TOOL THAT YOU WON'T REGRET GETTING!
HIGHLY RECOMMENDED BY DEPARTMENT OF FIRE AND EMERGENCY SERVICES!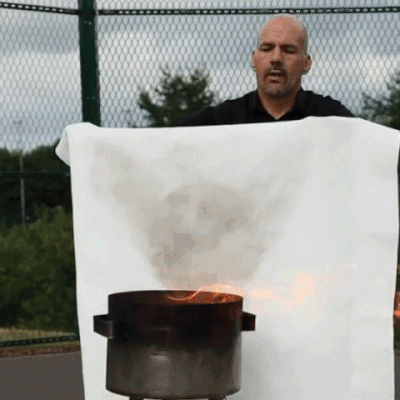 We know that accidents come when you least expect it. Fires can start anywhere and at any time, so it's critical to be always prepared. Introducing the Emergency Fire Blanket, a flame-retardant tool that you can easily grab in case of fire.
It quickly quenches down fire, allowing you to move quickly and get help and prevent or minimize serious injury.
Fire protection of you, your car, or for getting out from a burning house is possible and accessible now by using the "Fire Blanket". Moreover, the convenient, compact form allows you to store it anywhere.
But despite its convenient packaging, it can keep temperature up to 500 degrees Celsius. This is exactly what each household must have at the home because one day you will thank the fire blanket for saving life and property. First Choice for Fire Safety. This blanket can be placed around areas where a fire is most likely to start (e.g. kitchen, grills, fireplaces, cars, camping sites, gas stations, restaurants, warehouses, etc)
Light & Compact. Can be easily grabbed at a moment's notice.
SPECIFICATIONS :
Size: 1M*1M
Color: White 
Material: Fiberglass
Package Size: Approx. 29 * 18 * 3.5cm
Package Includes: 1 x Fiberglass Emergency Fire Blanket
---